Uxbridge Local History Society Homepage
---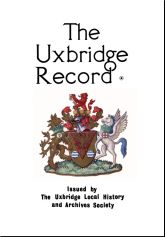 The Uxbridge Record.
---
This is the website of the Uxbridge Local History and Archive Society.
The society began life in 1949 as the Archives Committee of Uxbridge U.D.C.
In 1952 membership was extended to all persons interested in local history, and
today we continue work towards an ever wider appreciation of our heritage.
We have links for you to discover more about the area, including Uxbridge History.
---
President of Uxbridge Local History Society

Lord Randall of Uxbridge

Former member of Parliament for Uxbridge & South Ruislip.

Mr Randall was elected President at our 2005 AGM.




---




Our 2021 - 2022 Winter Programme of meetings.

---

More Pages Below
Click here and find out about the Borough of Uxbridge arms or blazon that now appears in colour on the Uxbridge Record cover.

In 2005 the Society presented roses at The American Community School, Hillingdon. Read about it here.
See how our donated roses have grown. Use the same link above.

Use this link to view an article from a recent copy of Uxbridge Record.

View Uxbridge as it was in the past. Click here to view old postcards from our archive.

Ralph John Chenery 1927 -2009, faithful servant to the society. Read the "Uxbridge Record" tribute here
---
The Society now has a Facebook page.

---
wwww

email us at this mailbox if you have any comments or questions or here for Membership enquiries.
Page updated September 2021 © Douglas J. Adams